INM-D preorders open!
The Desktop Infernal Noise Machine – INM-D is now available for preorder!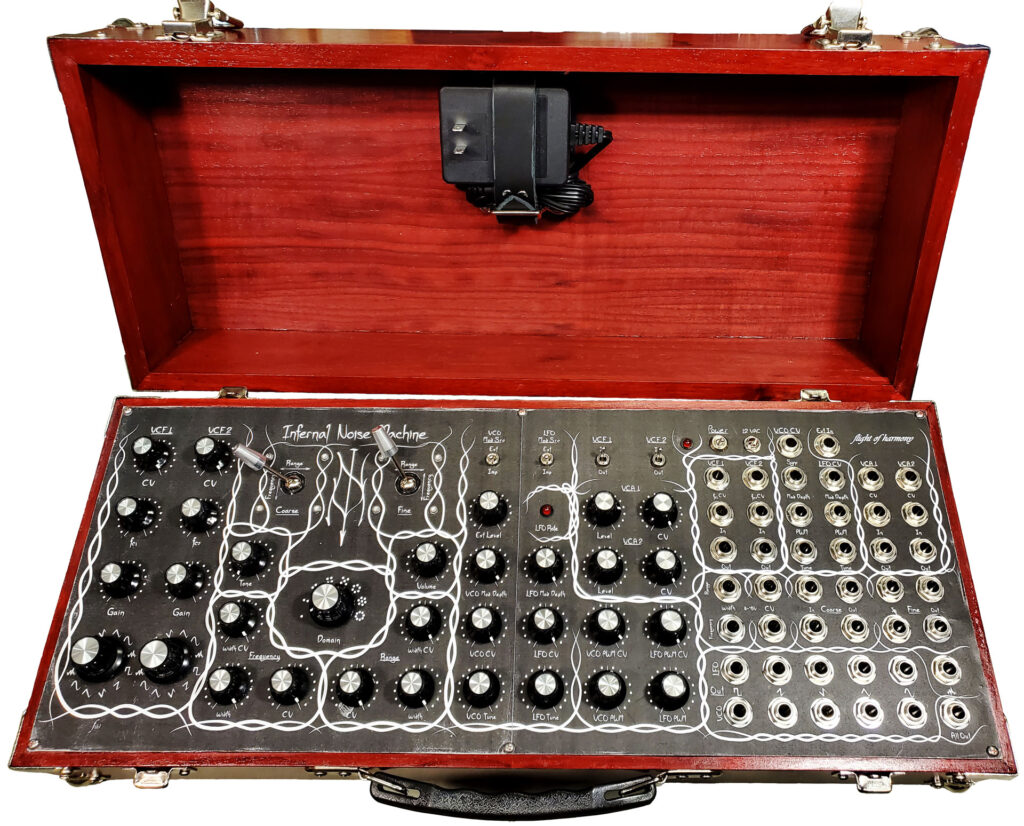 Pricing (USD):
Blood Box road case: $2,066.00
-Material: Black Walnut (see note), stained, nickel-plated hardware.
-Dimensions: 20″W x 10″H x 7″D (closed)
-VESA 100×100 mounting holes in base.
-Weight: ~13lbs.
Minimal case: $1,816.00 (No hardware or stain, just four feet and a protective top coat.)
-Material: Black Walnut (see note)
-Dimensions: 20″W x 9″H x 4.5″D
-VESA 100×100 mounting holes in base.
-Weight: ~10lbs.
*Note: Case sides are solid black walnut. Top & bottom are Black walnut plywood for dimensional stability (so the box won't split due to temperature or humidity fluctuation).
Both include a US AC adapter (12VAC 1500mA, 5.5mm x 2.1mm). For international orders, deduct $20 from the price and I will locate a compatible adapter in or near your country that you can order, if needed. Blood Box also includes the related tiedowns, anti-vibration pad, and leather strap.
Free Options :
Jacks (choose one): 1/4″, 3.5mm, banana. For banana, let me know your preferred color scheme. A ground jack will also be added in the top right of the panel.
Minimal case:
For the finish coat, choose either a gloss polyurethane or a satin-ish wax. The poly really brings out the grain and color and protects the wood very well, while the wax gives a soft and warm tone to the wood and is (in my opinion) much more pleasant to the touch.
Add-ons: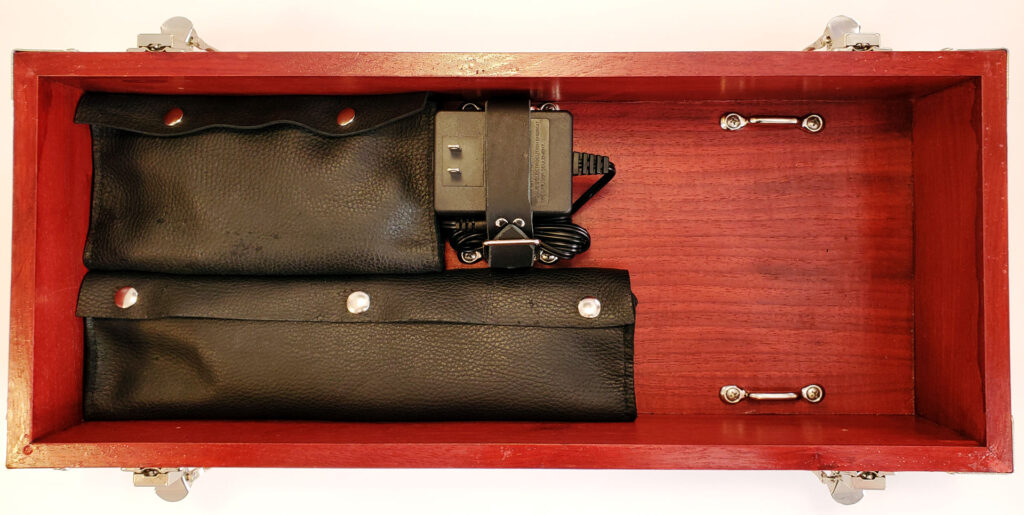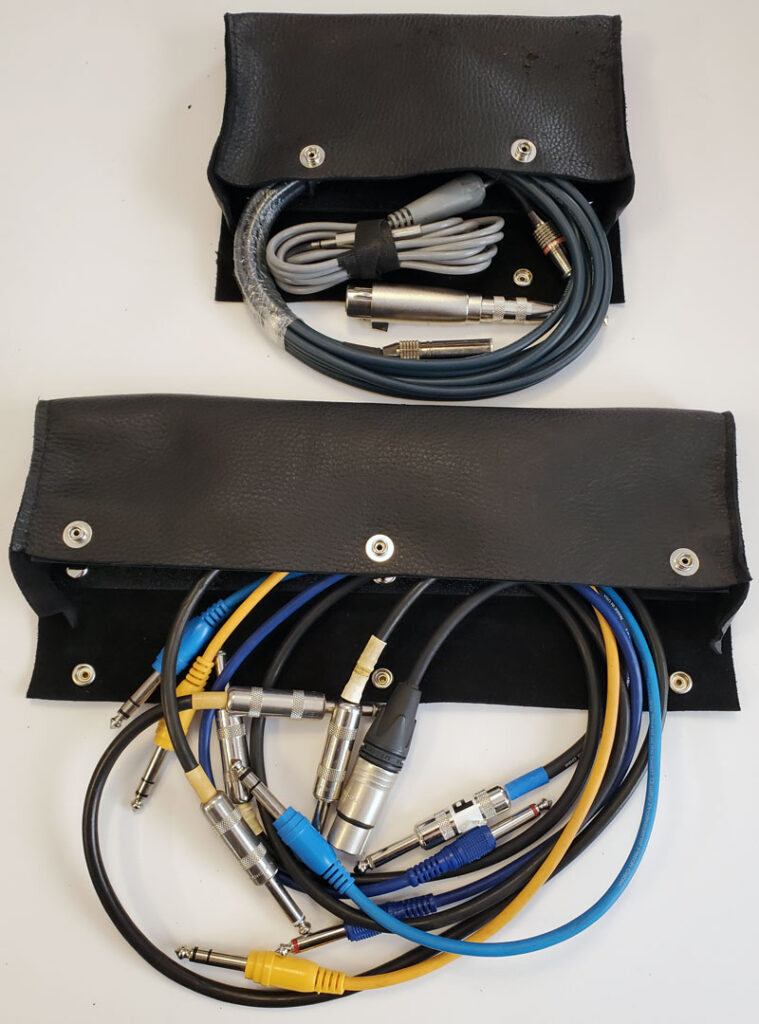 Storage pouches:
8″W x 4″H: $55
13.5″W x 3.25″H: $60
8″W x 7″H: $65
5.5″W x 3.25″H: $50
Basic combinations: 1 A and 1B, 1 C and 1 D, 1 A and 2 D. (A&B shown)
Tie down points (Footman loops): $5 each, let me know how you'd like them arranged.
Custom pouches and straps available, just ask!
Ordering:
Send me an email with the details, requests, and any questions, for your order at flight (at) flightofharmony (dot) com.
Payment will be via Paypal.
Other words:
This is limited to a maximum of 35 units. These are something I have always wanted to do, so I'm going to do them, but I probably will not do something this big again any time soon. I have a number of smaller modules I want to do next.
These will all be hand-made and assembled by just me, flight, with my usual OCD attentiveness.
Production will take 6-8 months. During this time I will post regular updates – monthly, at first, bi-weekly as things progress – but you are free to inquire and mildly harass me any time you may feel the need.
More images and videos will be appearing in the coming month in several places:
f(h) twitter: @flightofharmony
f(h) YouTube: flightofharmony
f(h) Instagram: flightofharmony
Modwiggler forums: Flight of Harmony
Eventually, I'll even get the page up on this website too…

~flight